THE SOLAR HOUSE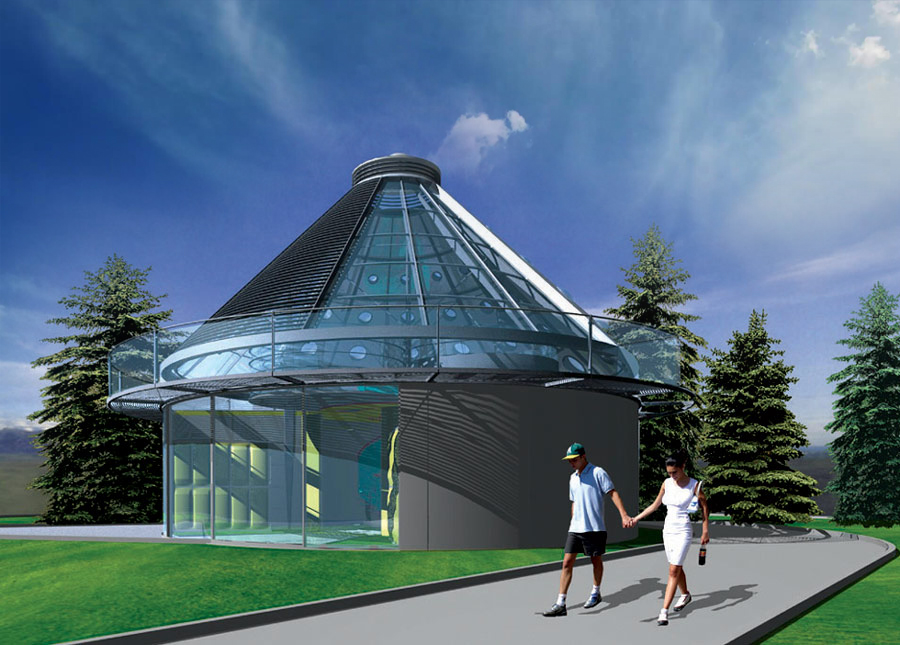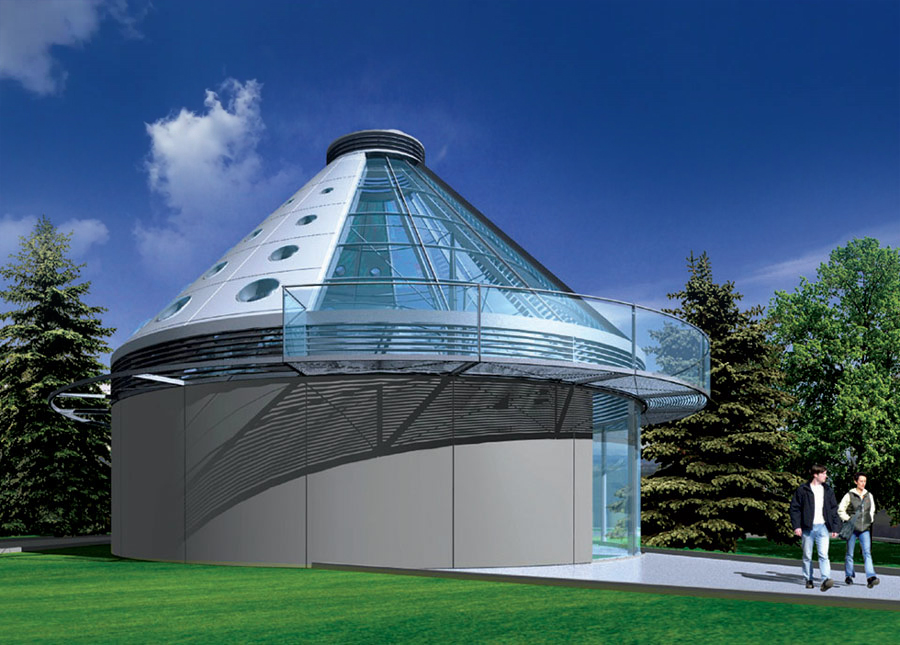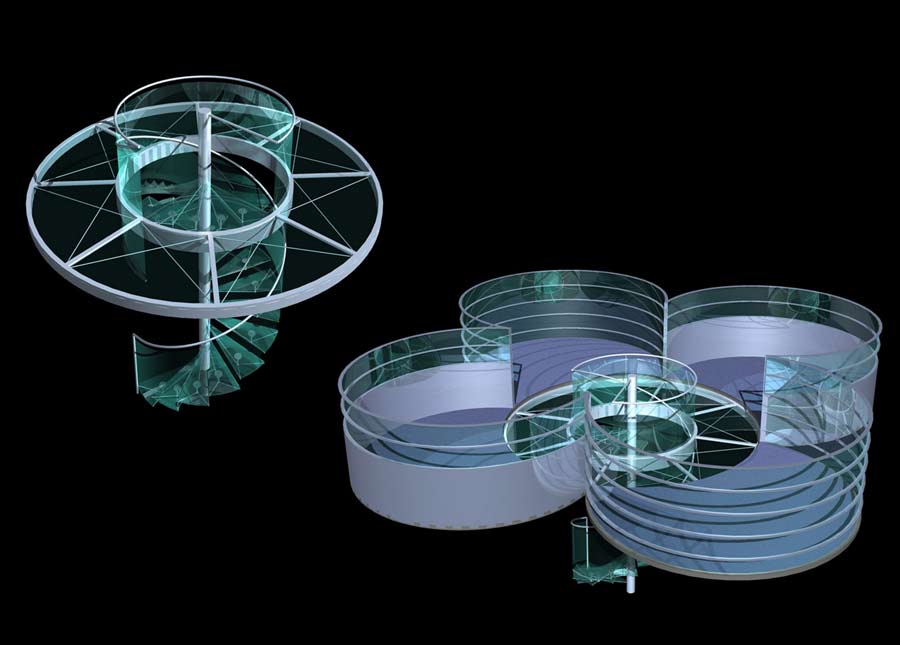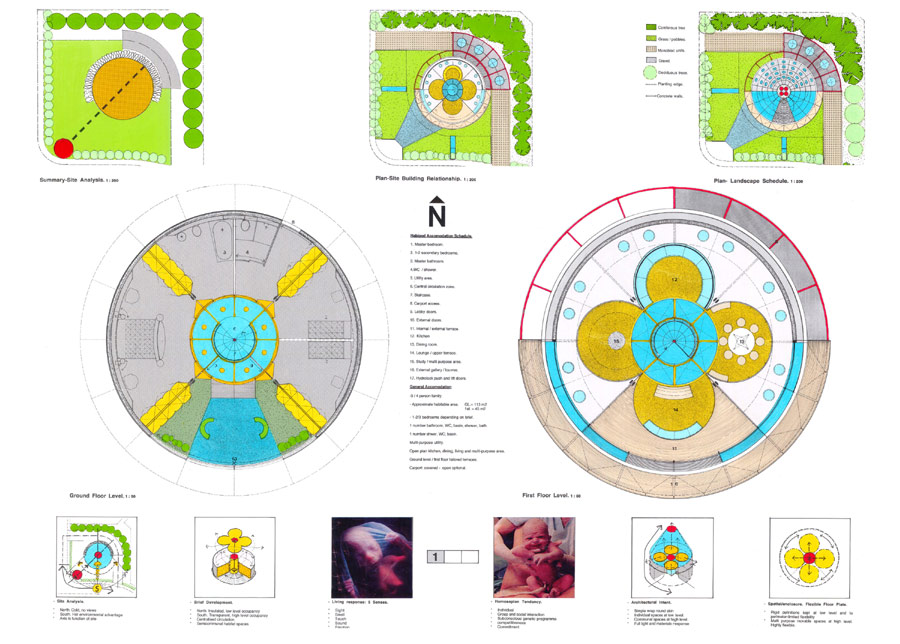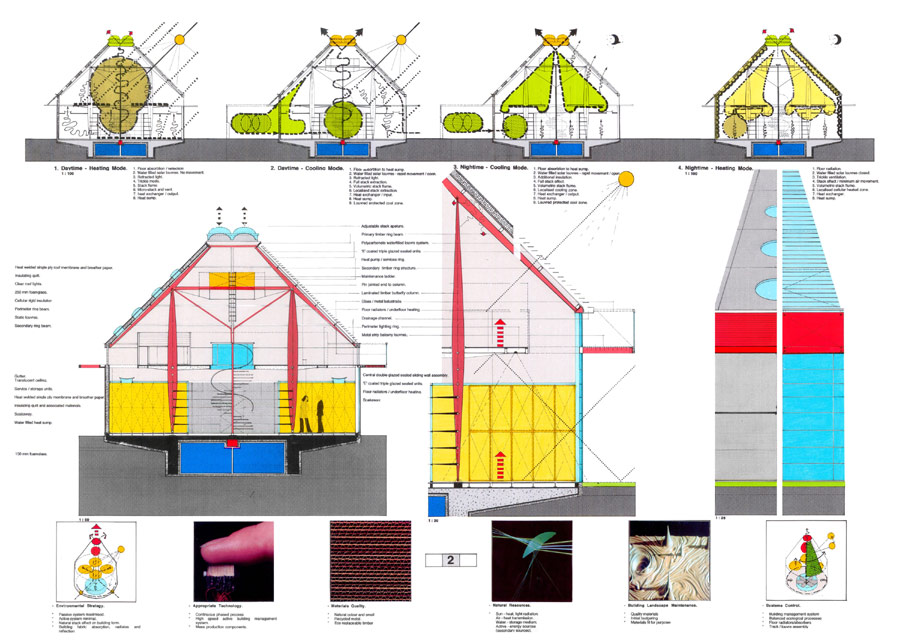 PROJECT INTRODUCTION:

'Future World - House of the Future', the brief called for single dwelling designed as part of a series of individual houses; this particular site had a corner aspect. The design had to illustrate the importance of energy efficiency & environmental considerations related to home automation and possible changes in living trends.

The design use the concept of the 'Upside Down House' which locates low level occupancy & activities at ground level, in this case seen as a cellular layout for the entrance lobby, bedrooms and bathing facilities, whilst communal high occupancy functions are located at the 1st level where it is possible to maximise light and air. In this design these functions are housed on 'Lilly Pad Floor Plates' which face south (kitchen, lounge & family living) & are organised a round a central spiral staircase which focuses vertical light & circulation between the ground level opening up into the communal cone.

TECHNOLOGY & CONSTRUCTION:

The structure and enclosing skin reinforces its orientation, internal organisation and environmental concept. Material surfaces are chosen to allow absorption and re-radiation of heat the building fabric is low technology using where possible natural materials such as timber (primary structural elements are laminated timber), stone and concrete (floors) or those that when processed are virtually self finished such as stainless steel & glass (panels and feature staircase).

The house's 'conical form' provides advantages when considering environmental issues, a pure reflection and overlay of the spatial organisation and volume. Internally natural air movement provides ventilation through stack effect. The north is highly insulated with bubble rooflights that create shafts of evenly distributed gentle light, whilst the south opens up to maximise views, light and solar heat gain. Due to the angle of the glazing the façade is fitted with an automated wing off louvers that are perpendicular to the sun tracking its path to eliminating direct sunlight, whilst either side does not require protection as it is reflected. The floors are both heat absorbers & admitters their construction proving long term energy storage via a water heat soak & exchangers located beneath the house; a process that is entirely reversible and providing a well balanced comfortable living environment.