RÉSUMÉ : BACKGROUND INFORMATION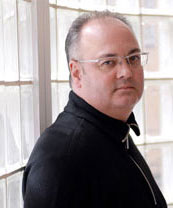 Born into a background of aviation and horticulture, I went on to study Architecture at Leicester Polytechnic (De Montfort University) graduating with the 'Keal Award for Design', completing a Post Graduate Diploma in Architecture with Commendation.
From the outset of my career, I have pursued collaboration with others from different diverse disciplines & backgrounds, forming working partnerships with specialist consultants, manufacturers, fabricators, contractors & artisans that all have a similar way of thinking. This interplay creates a unified vision with complete honesty to responsive architecture, appropriate technologies, materials & detail that forms just part of the philosophy
'Elemental Architecture & Design - EA&D'
which is further summarised in
'Ideology, Thoughts & Influences'
I gained a great deal through collaborating with world-renowned studios such as Eva Jiricna Architects (30 years, with 19 of these as Eva's co-director) & the Richard Rogers Partnership (RSH & P). This dual process allowed me to formulate EA & D generating a flexible model / framework for testing ideas in design, sustainability, methods of construction & assembly, creating an 'Environment & Architecture of Unity'.
My career and reputation has excelled in the production of high quality, unique architecture, rigorously designed, detailed with communication of purpose & assembly. The process & expression within multi-interlayering is crucial. The intended functions, social, environmental & material strategies are viewed as natural technological compositions, that when expressed & experienced, create design & architecture that stimulates the sense's into wellbeing, not forgetting humans have a basic seven senses.
With the phased speed of global civilization being felt worldwide, EA & D produces a fresh approach to solving problems; although in my view, there are never problems, just possibilities - it is an attitude of mind towards design. It is a multi-dimensional philosophy that is not just about design, but has controls through every day practical restrictions, i.e. such as budget, time, statutory regulation, change, flexibility, maintenance & replacement.
My explorations & designs can be seen in the section
'Architecture & Project Gallery'
with quick brain storming in
'Flash Sketches - Ideas'
which all show the variety of projects mainly undertaken as competitions, with personal awards & accreditation received for some submissions, but also for projects that I participated in at EJA.
Personal Awards and Accreditation to Duncan Webster
- Finalist for the Royal Academy Summer Show Exhibition 2019 (2019 Submission Topic, Sustainability, Project Submitted 'Water Wheel Power House')
- Twice Short Listed for the Royal Academy Summer Show Exhibition 2007 / 2008
- Concept House - Highly commended
- House of the Future - Highly commended
- Exhibitor in RIBA exhibition Architects 40 under 40
- Partition system of Tomorrow - 1st place
- Luxlon Cladding Products - 1st place
- Gas Council Energy Project - Highly commended
- Keal Award for Design at Leicester Polytechnic
Collaboration as a former Director at Eva Jiricna Architects & with Specialist Consultans:
Throughout my career I have been fortunate to have always been able to be part a collaborative team, producing unique outstanding designs & projects. It provided me with the expertise & experience to pursue the development of my own thoughts & concepts seen through EA & D
This experience can be seen in a few chosen projects displayed in the section
'Experience & Works Collection'
which provides a brief insight into some of the designs & projects I took part & collaborated in.